Honey Turmeric Chicken
Sticky, savory and sweet honey chicken marinated with turmeric and cooked on skillet. Quick and easy dinner in under 20minutes.
WHAT YOU NEED
4 chicken thighs (340g per chicken), deboned but skin-on
2 cloves garlic, minced
1 ½ tablespoons honey
1 tablespoon oyster sauce or soy sauce
1 teaspoon Alchemy Golden Turmeric
1 pinch cayenne pepper
1 pinch salt
1 tablespoon oil
EQUIPMENT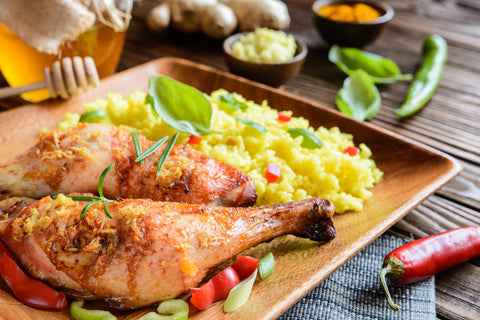 Original Golden Turmeric Elixir

Original Golden Turmeric Elixir

Vendor:

Alchemy's Golden Turmeric Elixir is caffeine free, gluten free, dairy free, vegan friendly with NO artificial colours or flavours. Contains 48mg of added Curcumin per serve. 100% Australian made and owned. 50 serves per 750ML bottle.

Regular price

$19.95 $39.00

Regular price

Sale price

$19.95 $39.00
HOW TO MAKE IT
Add the garlic, honey, oyster sauce, Alchemy Golden Turmeric, cayenne pepper, and salt to the chicken and stir to combine well.
Heat up a cast-iron skillet on medium heat and add the oil. Transfer the chicken to the skillet and cook on both sides, until they turn golden brown, crispy on the bottom and nicely glazed and brown on the skin side.
Dish out and serve immediately.