Golden Turmeric Slice
These sweet and spicy, no bake turmeric bars are unsurprisingly addictive with layer upon layer f spiced flavour from the turmeric, pepper, and ginger. They're also naturally sweetened, gluten-free and vegan. 
WHAT YOU NEED
2 cups unsweetened fine or medium shredded coconut
1 cup raw cashews
½ cup soft pitted dates
20ml Alchemy Golden Turmeric
1 tsp black pepper
1 tsp cinnamon
½ tsp sea salt
EQUIPMENT
Food processor
7-8inch square baking pan
Baking paper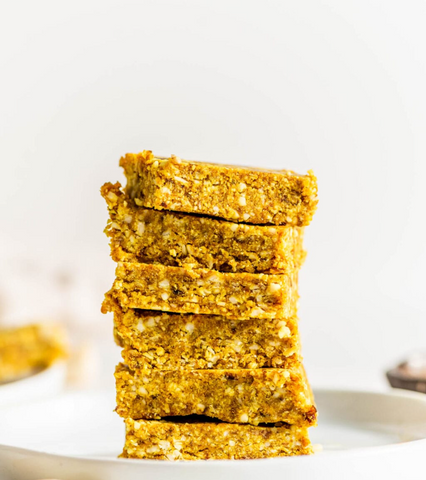 Original Golden Turmeric Elixir

Original Golden Turmeric Elixir

Vendor:

Alchemy's Golden Turmeric Elixir is caffeine free, gluten free, dairy free, vegan friendly with NO artificial colours or flavours. Contains 48mg of added Curcumin per serve. 100% Australian made and owned. 50 serves per 750ML bottle.

Regular price

$19.95 $39.00

Regular price

Sale price

$19.95 $39.00
HOW TO MAKE IT
Add the coconut to a high-speed blender or food processor and mix until it starts to get a bit oily and paste-like. Depending on your food processor, this may take up to 10minutes. When you start seeing a bit of paste sticking to the walls of the processor, its ready. It's important you start to see what oiliness as this is what binds the bar as they harden in the freezer.
Add the cashews and process for another couple of minutes until they're completely broken down and mixed into the coconut
Add the rest of the ingredients and blend into a crumbly but somewhat sticky dough
Line a 7-8inch square baking pan with baking paper. Let it stick out over the edges so you can lift bars out easily when they're done
Firmly press the mixture into the pan, taking a few moments to really press it down and even it out, especially into the corners
Place the pan in the freezer for 1 hour to firm
Use the edges of the baking paper to lift the bars out of the pan. Cut into 24 mini bars, 12 larger bars or 16 squares.
Store in sealed container in fridge for up to two weeks.