Almond Flour Banana Muffins
WHAT YOU NEED
2 cups of Almond Flour
Teaspoon of Baking powder
Half a teaspoon baking soda
1 Cup Alchemy Banana Smoothie Base
1 Large egg
1/4 cup of Maple Syrup
1/2 cup Chocolate chops
1/4 cup Walnuts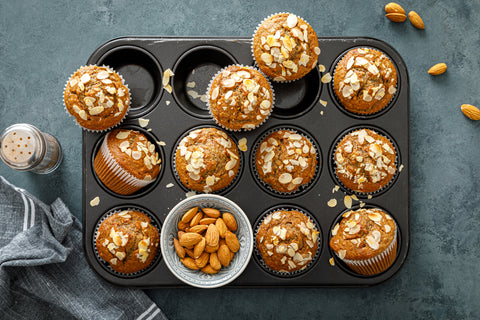 1 Litre Banana Smoothie Mix

1 Litre Banana Smoothie Mix

Vendor:

Try  A banana breakfast smoothie. Add Oats, Peanut butter and dates for a powerhouse breakfast that keeps you going all day.

65% Fruit
Gluten Free
Dairy Free
Natural colours & Flavours 

Regular price

Sale price

$21.60
HOW TO MAKE IT
Reheat oven to 180 degrees Celsius. Lightly spray a 12-cup muffin tin.
Put almond flour, baking powder, and baking soda, into a large bowl and mix well.
Add egg, maple syrup, and Alchemy Banana Smoothie Base into same bowl and mix using beaters on medium speed for 3 minutes
Add in chocolate chips and walnuts. Spread evenly.
Distribute the batter among the 12-cup muffin tray.
Bake muffins for 20 minutes, until golden on top then cool for 5-minutes.